With all the snow yesterday, and dropping children off, I had auto-posted this review for Friday, but it didn't post!! So here is the original review:

This is a
Mama Buzz
review. The product was provided by
Hands of a Child
for this review. I was not compensated for this review - just asked to give an honest account of my experience with this product.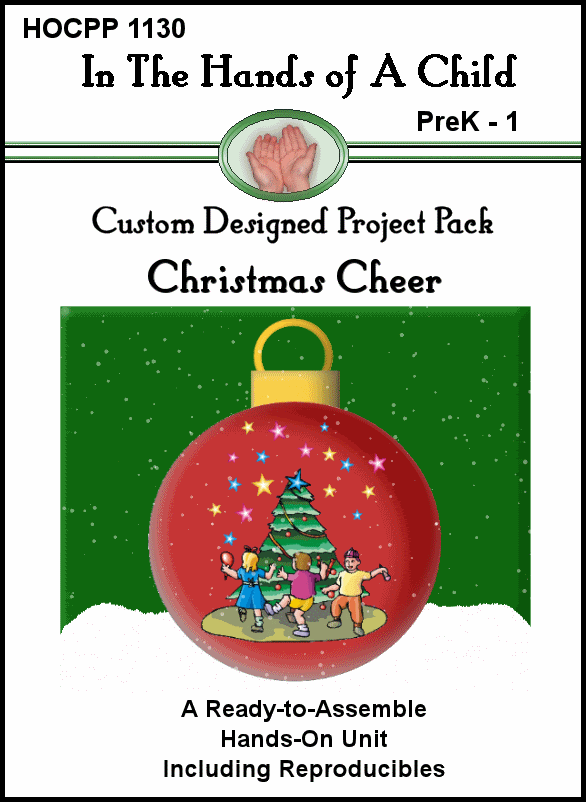 I was very excited to get this pdf file and get Cara and Aynslee excited about doing some holiday crafts. And, being the organized goofball that I am, I was even more excited that it was downloadable and I can save it and use the reproducibles in the future with my younger child (children??) :). The Christmas Cheer Project Pack is a 50 page downloadable e-book that includes 15 activities. This e-book is designed for Pre-K to 1st graders, but the spokesperson I emailed about this review said it would be perfect for two 3 1/2 year olds, and she was RIGHT! The girls (as I'm sure most preschool girls do) LOVED playing with glue, paint, colors. My daughter has proven time and time again her most favorite thing in the world to do is trace her hand, why is that? So making the hand-traced and cut wreath was by far her favorite.
The activities were really nice to have on hand, as most of them called for normal household supplies. I also loved that I could pick and choose which activities we did. It is a 5 day lesson plan that focuses on snow, decorations, reindeers, Santa, and baking. If you know what we do for Christmas, you know that we don't participate in Santa, but we do not ban his name from our home! Cara knows he is pretend and Jesus is the reason we celebrate the season of Christmas, so though we did not do all of the Santa activities, I did print out the large Santa and let the girls color and glue the cotton balls on for his beard. They enjoyed any and everything they got to do that involved GLUE! :). And since Aynslee does celebrate Santa (and he's not around our house much), she really like it!
As a mom, I really enjoyed the more 'learning' type activities. Cara loves candy canes (and all things peppermint), so we played the candy cane matching game a lot. First, she traced the letters for the pockets (they have 8 pockets that say circle, star, rectangle, heart, etc) and then she'd pick up a candy cane and tell me which shape was on it. Since she can't read yet, I'd ask her what letter she thought the shape started with, and she could usually pick out which pocket the candy cane was supposed to go into just based on looking at all the letters! And of course, a peppermint as a reward helped :).
As a reviewer, I'd definitely recommend this product. I think it has great activities to do with even young school age children if they are home for Christmas break from school. You don't have to be a 'homeschooler' to enjoy and plan great activities with your children!
Hands of a Child
has numerous other downloadable e-books, as well as CDs and printed books, including more Christmas ideas! This
particular e-book
retails for $12.