* Mama Buzz, and reviewers, were provided with a complimentary copy of this book for blog tour purposes*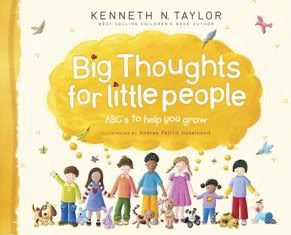 Ages 3-7

Hardcover retails for $14.99

I can't tell you how much I loved this book. We still go back to it over and over to remind Cara of things we learned. It is a book with 26 pages, one for each letter of the alphabet. It has the large alpha on the left side of the page, which is great for little hands to trace with their finger. Then it has a little poem at the top, a paragraph, 3 questions about the full page picture on the opposite page, and a bible verse. From a 'preschool / homeschool' perspective, it has letter recognization, bible verse memorization, picture comprehension, and the list goes on! As parents, we loved it because the illustrations definitely caught Cara's eye, and it helped us to remember to go back to that and say, "Remember the K picture" and she could actually tell us what she remembered. We focused on 1-3 letters a day, usually reading 1 or 2 before nap and 1 or 2 before bedtime, so it took us around 2 weeks to get through the whole book. Now that we are finished however, she still asks for the 'letter book' and we usually let her pick a letter each night to re-read before bed. Here is the little poem on the top of the K page....something we are still working on with our 3 year old ;)

K is for kindness

To Grandpa and Gram.

Be helpful to others.

Be sweet as a lamb!

And the verse for this theme was Colossians 3:12, "You should practice tenderhearted mercy and kindness to others."

This book would make a great gift for the children in your life, or for the church in need of updated books in their preschool classrooms!