Another hit out of the ballpark on things I get to review! I absolutely love this book, and Cara now asks for it by name, daily, the
I Can Trace
'lesson' as she calls it. I was really hoping I'd get this review, because I have tried quite a number of tracing/handwriting books in the past. Having a mom and sister as elementary teachers, they often give me books to try with Cara. My mom just gave quite a few fisher price tracing books, in sets of 2 so I can do them with Aynslee and Cara, and neither girl seemed very intrigued, or they started above their level. But, I pulled out the I Can Trace book for the first time a few weeks ago, and Cara was in love. It starts off very easy (just simply drawing straight lines-as you can see in the picture in activity 1) and the best part about it is how colorful EACH page is. This particular book has LOTS of animals throughout it and Cara just absolutely loves that.
As a mom, I love how at the top of each page, it gives a little direction. Like the first 7 lessons say to get the child to trace the various lines (straight, zig-zagged, curvy, etc) with their finger before trying with a pencil. Then, on lesson 8, it says see if they can draw the lines without tracing with their fingers first. Then, it starts into the extension activities we can do at home! I love these. After the end of the lesson, it says, "When your child is done with the activity, he or she can do the extension activity on page 197." And then, back on page 197, it gives you a list of ideas to do with your child, with normal household items, for use with each set of activities. I also LOVE that in the back is a wipe it clean page where they can write and doodle over and over! There are so many other great books in
Timberdoodle'
s series, "
Big Skills for Little Hands
," like cutting, pasting, folding, coloring and drawing....maybe need to nudge the grandparents for Christmas :), I think it is definitely worth the listed price. It has 90 activities on colorful page, and then dozens of additional ideas on the extension pages to do at home!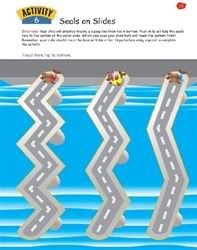 In this packet, we also received the set of 12
Primsacolor colored pencils
, and they are currently listed for only $8 on timberdoodle's site!! These are amazing. Just note, they are unsharpened, so don't get your child all excited about using them unless you have a pencil sharpener already waiting at home to be used ;). The color transfers very well to all the different kinds of paper your child can use, unlike most dollar store brands, that you have to press VERY hard to see any color! My girls (Aynslee included) really enjoy these, they are SO vibrant and primary. The book is for ages 2+, and I would recommend it to any friend who wants to get their child interested in working on their fine motor skills and writing. What a fun book and colorful set of pencils. I am so lucky to be able to get to try out all these neat products!
(Disclosure: We were provided with these products, free of charge, by Timberdoodle, in association with MamaBuzz.)